Everlasting Valve – Not Your Average Autoclave Valve
Published July 31, 2020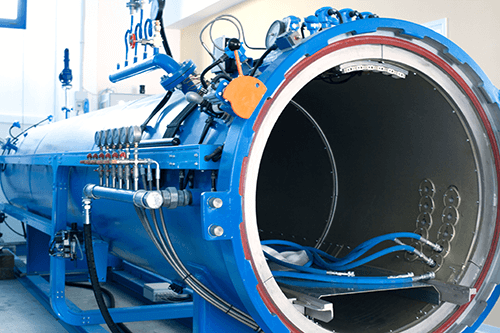 Autoclave valves are widely used in mining and mineral processing. In these settings, autoclaves help extract metal from refractory ore bodies, using high-pressure acid leaching and/or pressure oxidation.
As in other processing applications, autoclave valves have to work in extreme temperatures and pressures and stand up to abrasives and other challenging materials. In some early pressure leaching plants, autoclave valves only lasted for one cycle! While there have been improvements in valve technology since then, the average inexpensive valve is no match for the demands of hydrometallurgy. And then there's Everlasting Valves — not your average autoclave valve.
The Role Of Autoclave Valves
Autoclave valves play a part in gold refining, crushed rock, sulfuric acid, and similar tough environments. Autoclave valves for slurry feed must resist corrosion and erosion, and handle solids. In acid feed, autoclave valves are key to absolute isolation. In depressurization, valves are used within the vent line to manage conditions inside the autoclave.
Overall, flow control is difficult, and the autoclave valves face a lot of wear and tear. Often, these valves are cycled frequently, adding another layer of severity. Because autoclave valves play such a crucial role, any time they fail the entire autoclave is usually idle at best, and shut down at worst. If an autoclave is shut down or depressurized to deal with a valve, downtime can last for days.
Unreliable autoclave valves also pose another problem. Most plants are located close to ore beds, which means they are challenging to get to when service is needed. Ideally, autoclave valves should offer consistent durability and quality to make frequent service a thing of the past.
In a Valve World Magazine article, Valves in Hydrometallurgy, Ross Waters says the economic impact of valve failures in hydrometallurgy is enormous, far higher than the costs of the valves in use. "The relative impact of valve failures is a very significant factor in operating costs," he adds.
Clearly, autoclave valves have a major impact on production and thus profitability, along with safety and efficiency. Even existing autoclave-specific valves may not be enough to prevent unwanted downtime and repairs. It's time to try something new.
Why Our Valves Are Better
Everlasting Valves are powerhouses in even the worst conditions. That's because the harder our valves work, the more efficient they become. Autoclave valves cycle frequently, which means an Everlasting Valve in this application is designed to be the perfect fit.
All of our valves are built from a self-lapping rotating disc design. The valve has an open body, allowing material of any kind to flow through, self-cleaning as the disc removes materials that could clog. As that disc rotates evenly, it also spreads wear evenly, tightening the seal with every rotation. On top of that, these valves are made to be resistant to extreme temperatures, pressures, corrosion, abrasion and erosion.
As you can see, our valves are not your typical industrial valve, ideal for autoclave valves where technology has often not kept up with needs. We have been creating these valves since 1906, based on the idea that valves should be as tough as the applications they serve. Since then, Everlasting Valves have become part of countless industries, performing faithfully for decades.
We are also not your typical industrial valve company. Everlasting Valve wants to see you succeed, which is why we work as a partner in bringing you more efficient plant operations. When you come to us with your problem, we strive to find a solution based on your unique environment and your goals.
Sometimes, that means creating a custom valve. If you do not see a product of ours that would fit into your environment as an autoclave valve, don't worry! Custom valves are a big part of what we do, and they are all engineered with that same self-lapping, rotating disc technology.
Our valves are an investment, often costing more than a competitor would demand, but these valves will outlast anything else on the market. When you buy our autoclave valves, you are making that purchase once, without having to worry about repairs or replacements. The long-term benefits of our valves are well worth the up-front cost, which is why so many customers prefer investing in Everlasting Valves. Whether you find what you need in our standard valves, or upgrade your plant with a custom valve, you can rely on us.
Both high-pressure acid leaching and pressure oxidation call for time-tested, severe service autoclave valves. Look no further than Everlasting Valve Company. For more information, to request a quote, or to talk about custom valves, contact us. You can also call us at 908-769-0700 or email [email protected]. We're looking forward to working with you.