The Most Reliable Cement Silo Valve
Published April 20, 2020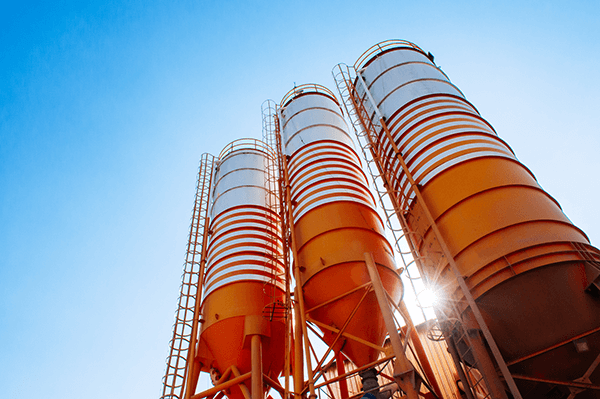 Cement silos are essential in cement production, storing building materials and mixtures. They are also an element of production that can bring an extra risk of problems. These include issues that require planned downtime for maintenance or, worse yet, unplanned emergency downtime. In a cement silo, valves are equally essential in ensuring performance and reliability.
The safety valve is a measure ensuring pressure relief in emergency situations. A cement silo valve also operates within the silo's cone, keeping cement locked in while the silo is loaded. And it allows for materials or mixtures to flow through to transport vehicles when the valve is opened.
Cement is an abrasive, challenging material, even when pressures are low. This can lead to failure for many commercial valves, especially those of a lower quality. Rubber seals wear away. Gaps develop between the valve body and disc. Ultimately, the valve simply cannot stand up to the harsh environment of cement production.
Many manufacturers experience issues with stuck valves, leaks, and frequent valve breakdowns, grinding production to a halt. All of those issues also add up to a lot of downtime spent cleaning, as leaking cement hardens and requires manual removal. It's a lot of wasted time and money, all because of poor-quality, unreliable valves.
A contaminated silo as the result of faulty valves can cost a plant as much as $250K. Your cement business deserves the most reliable cement silo valve. That's what we offer at Everlasting Valves, based on our fabrication expertise and revolutionary design.
Everlasting Valves
We offer superior products to help you get the most out of your cement production. Our valves are the original self-lapping, rotating-disc valves, designed specifically for severe service. They are right at home in cement production, working hard wherever you put them to use. You can use our diverter valves anywhere in your cement production equipment, including as cement silo valves, because they are designed for use anywhere on your production line.
All of the problems of lesser quality valves — leaking, seizing, and early breakdown — do not happen with Everlasting valves. That is because our valves are self-cleaning, with an open body design that encourages a longer life and tighter seal.
The open body allows cement mixtures to move around the valve instead of getting stuck. The rotating discs work to displace abrasives and other potentially problematic media. As the actuator drives the disc, the sealing surface stays in contact with the seat, so particles cannot lodge between the surfaces. At the same time, the rotating action polishes the sealing surfaces, ensuring a long-lasting seal. Our valves actually improve with use, even in harsh conditions, unlike conventional valves that wear away a bit at a time until they stop working.
If you happen to need a custom valve for your cement silos, we can do that too. We start with a visit to your site to evaluate the unique needs of your plant, then get to work designing and fabricating a cement silo valve that is just right for your business.
The Benefits of Reliable Cement Silo Valves
In most cases, cement silo valves are mission critical for your production and operations. It is impossible to work when these valves are out of service, which means your company has a strong interest in getting any valve issues dealt with right away.
When you rely on valves that are not as durable as they could be, your business has to work even harder to deal with downtime. Every minute spent repairing or replacing a valve equals lost revenue. The manpower costs add up, especially during off-hours or emergencies. And you are likely to lose product as well. As noted above, sometimes valve failures lead to total equipment failure, which will set your company back even more.
Our valves cost more up front, but when you look at total cost of ownership, you will be impressed with what you see. Without the constant costs of repair and replacement, downtime, overtime, and loss of customer loyalty, you will find that our concrete silo valves are well worth the investment.
When you choose Everlasting valves, you choose safety, longevity, and dependability. You will be joining a long list of well-known clients who understand that our valves are the utmost in reliability in every kind of service. And, you will enjoy our commitment to responsive customer service.
To learn more about our cement silo valves and other critical service valves, for a quote, or to discuss a custom product, get in touch with our team. Call 908-769-0700 or reach out online.