Consistently Tight Shut Off Valves | Everlasting Self-Lapping Valves
Published November 26, 2021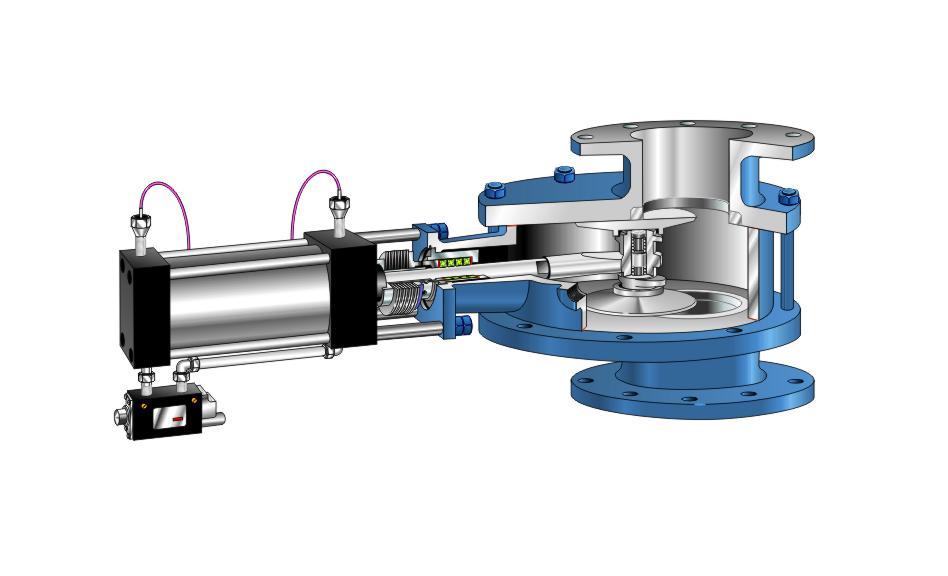 We've all seen it: a valve gets old and starts wearing down. The seal leaks, and maybe it gets tougher to open or close. Before too long, the entire thing has to be thrown out.
But what if there was a better option? That's where our valves come in! Here's a handy valve guide with everything you need to know about the Everlasting Valve company's tight shut off valve and how it can work well for your business.
How Does Our Tight Shut Off Valve Work?
Our specially made self-lapping valves feature an innovative rotating-disc design. This design gives the valve a very reliable tight shut off that other valves can't match.
With the metal-to-metal design, our tight shut off valves can clean themselves by shearing and clearing away debris and materials, ensuring a tight seal no matter what kind of materials are passing through. Even better, our valve's design ensures that it actually improves over time. Each use wears it in better, giving you a tighter and tighter seal.
Basically, every time our valves rotate to seal, they seal evenly. As the metal wears in, the seal grows tighter and more secure. That means the longer you use one of our valves, the better the valve shut off performance becomes!
Why Are They Better Than Other Valves?
Valves like gate valves or ball valves are frequently used for fluids and fluid control, but they just can't measure up to our overlapping disc valves. These types of valves will wear out over time, forming uneven seals and springing leaks fairly quickly.
Additionally, materials can get trapped in these gates and valves. For example, a ball mechanism can get sludge or materials lodged in it, which makes it more difficult to open or close fully. This will require more frequent maintenance or replacement just to keep the valve working.
Also, these other valves often have to use gaskets and O-rings to make up for the unevenness in the valves and try to form a tight seal. Gaskets and O-rings wear out over time and can also be corroded by many materials or liquids that get sent through the valves.
Our overlapping disk valves take care of all of these issues. You get a tight shut off every time and don't have to worry about maintaining or replacing the valves or gaskets nearly as often as other types of valves.
What Types of Valves Are Available?
We have four types of valves available. These all use our overlapping disk technology and are designed to tightly shut off, forming excellent seals that improve over time.
The types of valves we offer are process, diverter, bulk material, and boiler blowdown valves. They serve different purposes among equipment and systems, but you'll be happy with our high-quality, sturdy valves, no matter which type you need.
Process Valves
When you need to control how much material passes through a particular system, you need one of our process valves. We've designed these to be tough, durable, and tightly sealing no matter what types of materials you send through them.
The process valves we offer are self-cleaning and will wear in, ensuring that your seal improves the more you use it. This reduces the downtime you have to spend repairing or cleaning your valves and certainly reduces the amount of time you have to take to replace valves.
Diverter Valves
When you're trying to split materials or divert them in different directions as your needs arise, a diverter valve is your friend. This is an especially vital area where you will want a valve that won't clog, leak, or break.
These diverter valves are designed to prevent clogs and downstream issues and plugging, all while staying strong. And we've designed these valves to be easily replaceable, so if you ever need to swap one out, you'll spend very little time changing over to a fresh valve.
Bulk Material Valves
Designed to handle large quantities of the toughest materials around, our bulk material valves are the toughest, sturdiest, longest-lasting valves you'll find anywhere.
It doesn't matter what kind of materials you have that you need to send through; these valves will handle it all. These valves' tight shut offs will prevent your hot, cold, caustic, high pressure, and other materials from leaking or going where you don't want them. If you want reassurance that the materials go where they need to go without spilling out, you want a valve you can trust.
Boiler Blowdown Valves
If you need to perform a boiler blowdown, you need a tightly sealing valve that can handle the pressure. We've got you covered!
Our boiler blowdown valves are made to be used multiple times, rather than many traditional valves used in these procedures. If you need to blow materials out of your system, this valve can handle the pressure and sludge and still be clean and ready for the next round.
Are There Other Options?
Yes there are! We offer a wide variety of our various valves that you can buy off the shelf, but if those aren't what you need, we're eager to work with you to find something that does.
We have a dedicated team of engineers ready and able to talk with you about your company's specific valve needs. Please fill out our request for quote form if you're interested in speaking with our team to figure out a custom valve that can work for you.
We're confident that we can build you a valve with our rotating disk technology that is designed to fit your exact machinery needs.
Learn More About Our Valves!
If you'd like to learn more about our tight shut off valve options, including our prebuilt and custom-made designs, we'd love to help!
So feel free to contact us with any questions or concerns you might have. We'll do our best to help give you the best valve knowledge and experience possible!